Les indigènes de la 709
Collective defense action against air base 709 nuisances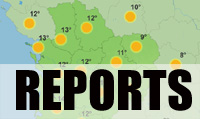 We present here a synthetic view of reports sent by the observers. The presentation is experimental: it will be adapted in the future, according the collective experience and discussions.
Colomns, from 1 to 10+, is the number of episodes of pollution for at least one hour, evaluated from "very strong" to "annoying" (one episod = morning or afternoon).
The number in the table is the number of cities that have reached this score.
The global assessment is given according to the maximum impact observed, applying a solidarity principle for territories.

• From may 17 to may 23 2021
| | | | | | | | | | | |
| --- | --- | --- | --- | --- | --- | --- | --- | --- | --- | --- |
| | 1 | 2 | 3 | 4 | 5 | 6 | 7 | 8 | 9 | 10+ |
| 4B sud Charente | | | | | | | | | | |
| Aunis sud | | 1 | | | | | | | | |
| Charente Arnoult coeur de Saintonge | | | | | | | | | | |
| Charente limousine | 2 | | | | | | | | | |
| Civraisien en Poitou | | | | | | | | | | |
| Coeur de Charente | | | | | | | | | | |
| Grand Angouleme | | | | | | | | | | |
| Grand Cognac | | | | | | | | | | |
| Grand Poitiers | | | | | | | | | | |
| Lavalette Tude Dronne | | | | | | | | | | |
| Mellois du poitou | | | | | | | | | | |
| Niortais | | | | | | | | | | |
| Ouest limousin | | | | | | | | | | |
| Porte océane du limousin | | | | | | | | | | |
| Rochefort océan | | | | | | | | | | |
| Rochefoucauld porte du Perigord (La) | | | | | | | | | | |
| Rochelle (La) | | | | | | | | | | |
| Rouillaçais | | | | | | | | | | |
| Saintes | | | | | | | | | | |
| Val de Charente | | | | | | | | | | |
| Vallées du Clain | | | | | | | | | | |
| Vals de Saintonge | 2 | | | | | | | | | |
| Vienne et Gartempe | | | | | | | | | | |
• From may 10 to may 16 2021
| | | | | | | | | | | |
| --- | --- | --- | --- | --- | --- | --- | --- | --- | --- | --- |
| | 1 | 2 | 3 | 4 | 5 | 6 | 7 | 8 | 9 | 10+ |
| 4B sud Charente | | | | | | | | | | |
| Aunis sud | | 1 | | | | | | | | |
| Charente Arnoult coeur de Saintonge | | | | | | | | | | |
| Charente limousine | | | | | | | | | | |
| Civraisien en Poitou | | | | | | | | | | |
| Coeur de Charente | | | | | | | | | | |
| Grand Angouleme | | | | | | | | | | |
| Grand Cognac | 1 | | | | | | | | | |
| Grand Poitiers | | | | | | | | | | |
| Lavalette Tude Dronne | | | | | | | | | | |
| Mellois du poitou | 1 | | | | | | | | | |
| Niortais | | | | | | | | | | |
| Ouest limousin | | | | | | | | | | |
| Porte océane du limousin | | | | | | | | | | |
| Rochefort océan | | | | | | | | | | |
| Rochefoucauld porte du Perigord (La) | | | | | | | | | | |
| Rochelle (La) | | | | | | | | | | |
| Rouillaçais | | | | | | | | | | |
| Saintes | | | | | | | | | | |
| Val de Charente | | | | | | | | | | |
| Vallées du Clain | | | | | | | | | | |
| Vals de Saintonge | 2 | | | | | | | | | |
| Vienne et Gartempe | | | | | | | | | | |
• From may 3 to may 9 2021
| | | | | | | | | | | |
| --- | --- | --- | --- | --- | --- | --- | --- | --- | --- | --- |
| | 1 | 2 | 3 | 4 | 5 | 6 | 7 | 8 | 9 | 10+ |
| 4B sud Charente | | | | | | | | | | |
| Aunis sud | | 1 | | | | | | | | |
| Charente Arnoult coeur de Saintonge | | | | | | | | | | |
| Charente limousine | | | | | | | | | | |
| Civraisien en Poitou | | | | | | | | | | |
| Coeur de Charente | | | | | | | | | | |
| Grand Angouleme | | | | | | | | | | |
| Grand Cognac | | | | | | | | | | |
| Grand Poitiers | | | | | | | | | | |
| Lavalette Tude Dronne | | | | | | | | | | |
| Mellois du poitou | | | | | | | | | | |
| Niortais | | | | | | | | | | |
| Ouest limousin | | | | | | | | | | |
| Porte océane du limousin | | | | | | | | | | |
| Rochefort océan | | | | | | | | | | |
| Rochefoucauld porte du Perigord (La) | 1 | | | | | | | | | |
| Rochelle (La) | | | | | | | | | | |
| Rouillaçais | | | | | | | | | | |
| Saintes | | | | | | | | | | |
| Val de Charente | | | | | | | | | | |
| Vallées du Clain | | | | | | | | | | |
| Vals de Saintonge | | | | | | | | | | |
| Vienne et Gartempe | | | | | | | | | | |
• From april 26 to may 2 2021
| | | | | | | | | | | |
| --- | --- | --- | --- | --- | --- | --- | --- | --- | --- | --- |
| | 1 | 2 | 3 | 4 | 5 | 6 | 7 | 8 | 9 | 10+ |
| 4B sud Charente | | | | | | | | | | |
| Aunis sud | | | 1 | | | | | | | |
| Charente Arnoult coeur de Saintonge | | | | | | | | | | |
| Charente limousine | | | | | | | | | | |
| Civraisien en Poitou | | | | | | | | | | |
| Coeur de Charente | | | | | | | | | | |
| Grand Angouleme | | | | | | | | | | |
| Grand Cognac | | | | | | | | | | |
| Grand Poitiers | | | | | | | | | | |
| Lavalette Tude Dronne | 1 | | | | | | | | | |
| Mellois du poitou | | | | | | | | | | |
| Niortais | 1 | | | | | | | | | |
| Ouest limousin | | | | | | | | | | |
| Porte océane du limousin | | | | | | | | | | |
| Rochefort océan | | | | | | | | | | |
| Rochefoucauld porte du Perigord (La) | 1 | 1 | | | | | | | | |
| Rochelle (La) | | | | | | | | | | |
| Rouillaçais | | | | | | | | | | |
| Saintes | | | | | | | | | | |
| Val de Charente | | | | | | | | | | |
| Vallées du Clain | | | | | | | | | | |
| Vals de Saintonge | 2 | | | | | | | | | |
| Vienne et Gartempe | | | | | | | | | | |
• From april 19 to april 25 2021
| | | | | | | | | | | |
| --- | --- | --- | --- | --- | --- | --- | --- | --- | --- | --- |
| | 1 | 2 | 3 | 4 | 5 | 6 | 7 | 8 | 9 | 10+ |
| 4B sud Charente | | | | | | | | | | |
| Aunis sud | | | | | | | | | | |
| Charente Arnoult coeur de Saintonge | | | | | | | | | | |
| Charente limousine | | | | | | | | | | |
| Civraisien en Poitou | | | | | | | | | | |
| Coeur de Charente | 1 | | | | | | | | | |
| Grand Angouleme | | | | | | | | | | |
| Grand Cognac | | | | | | | | | | |
| Grand Poitiers | | | | | | | | | | |
| Lavalette Tude Dronne | | | | | | | | | | |
| Mellois du poitou | 1 | | | | | | | | | |
| Niortais | | | | | | | | | | |
| Ouest limousin | | | | | | | | | | |
| Porte océane du limousin | | | | | | | | | | |
| Rochefort océan | | | | | | | | | | |
| Rochefoucauld porte du Perigord (La) | | | | | | | | | | |
| Rochelle (La) | | | | | | | | | | |
| Rouillaçais | | | | | | | | | | |
| Saintes | | | | | | | | | | |
| Val de Charente | | | | | | | | | | |
| Vallées du Clain | | | | | | | | | | |
| Vals de Saintonge | 1 | | | | | | | | | |
| Vienne et Gartempe | | | | | | | | | | |
• From april 12 to april 18 2021
| | | | | | | | | | | |
| --- | --- | --- | --- | --- | --- | --- | --- | --- | --- | --- |
| | 1 | 2 | 3 | 4 | 5 | 6 | 7 | 8 | 9 | 10+ |
| 4B sud Charente | | | | | | | | | | |
| Aunis sud | | | | | | | | | | |
| Charente Arnoult coeur de Saintonge | | | | | | | | | | |
| Charente limousine | | 1 | | | | | | | | |
| Civraisien en Poitou | | | | | | | | | | |
| Coeur de Charente | 1 | | | | | | | | | |
| Grand Angouleme | 1 | | | | | | | | | |
| Grand Cognac | | | | | | | | | | |
| Grand Poitiers | | | | | | | | | | |
| Lavalette Tude Dronne | | | | | | | | | | |
| Mellois du poitou | 1 | | | | | | | | | |
| Niortais | | | | | | | | | | |
| Ouest limousin | | | | | | | | | | |
| Porte océane du limousin | | | | | | | | | | |
| Rochefort océan | | | | | | | | | | |
| Rochefoucauld porte du Perigord (La) | 1 | 2 | | | | | | | | |
| Rochelle (La) | | | | | | | | | | |
| Rouillaçais | | | | | | | | | | |
| Saintes | | | | | | | | | | |
| Val de Charente | | | | | | | | | | |
| Vallées du Clain | | | | | | | | | | |
| Vals de Saintonge | | | | | | | | | | |
| Vienne et Gartempe | | | | | | | | | | |